Campaign for writer Walter Bagehot to be recognised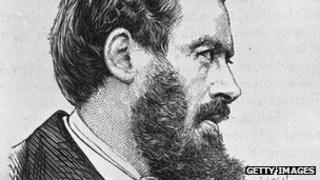 A campaign to recognise the influential Victorian political writer and economist Walter Bagehot has been launched in the town where he was born.
Bagehot was born in Langport, Somerset, in 1826 and is buried in the cemetery at All Saints Church.
But his links with the town have been largely forgotten and his grave is in need of repair.
It is hoped that funds can be raised to maintain his grave, put up signs and print literature.
The Economist magazine, of which Bagehot was an early editor, has said it will pay for the repairs to the grave.
David Rennie, the Economist's political editor and writer of the magazine's Bagehot column, explained: "A few years ago when his grave was first falling into disrepair, the Economist was asked if it would help out with some money and I think we did.
"Unfortunately the repair job caused some other problems - it was repaired in such a way that I gather now the church wall is falling down under the weight of the plinth around the grave.
"The Economist is going to give some more money to try and repair it properly this time so that it's going to survive."
The campaign to commemorate Bagehot's link to Langport has been started by the Langport Town Trust.
Barry Winetrobe, one of the project's supporters, said: "There's virtually nothing in the town that commemorates him - there's a faded stone plaque above the house where he was born and that's about it.
"In fact in outer space there's an asteroid named after him. He's more famous in the universe than he is in his home town."