High Court orders Hinkley Point protesters off site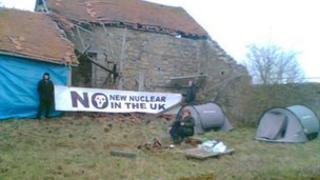 Anti-nuclear protesters camping on the site of the proposed Hinkley Point C nuclear power station have been ordered to leave by the High Court.
EDF Energy brought the action against the group, which has occupied a farm building on the site since 12 February.
Protesters, who have at least 24 hours to leave, are angry EDF has been allowed to carry out preparatory work before planning permission was granted.
A further injunction to stop any future protests has been rejected.
An EDF spokesperson said: "EDF Energy is pleased with the decision of the Court to grant both the possession order and injunction order in relation to the people currently camping on ground at the proposed Hinkley C construction site.
"This is a sensible decision which will allow us to proceed with our development for what we hope will be the first new nuclear power station in the UK for more than 20 years."
'Drawn attention'
Protester Nikki Clark said that despite the eviction order, the court's ruling "was a victory" for the group as well.
"We always knew that they were going to get their eviction that was never really in doubt," she said.
"But we've drawn attention to what's going on there - and they were trying to get a ban on all future protests against nuclear and they didn't get that so of course it's a victory."
EDF Energy was granted permission to carry out site preparation works including fencing, drainage, excavation and earthworks, in July last year.
A planning application for the power station was submitted to the Infrastructure Planning Commission, last October.
Further public consultation is taking place and a final decision will be made by the energy secretary.