Hope for Minehead hospital to be turned into community hub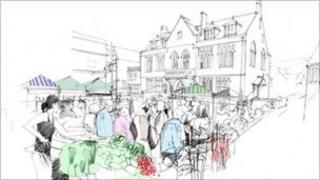 A group of local residents aiming to turn a former Somerset hospital into a community hub are appealing for public support to help secure lottery funds.
Minehead's Grade II listed hospital has been left empty since a new community hospital opened in Seaward Way in 2011.
Now the Minehead Development Trust wants to bid for lottery funding but needs to raise money of its own to show public support and secure a grant.
If successful, the building could hold arts events, a library and shops.
'All-year asset'
The group also has a longer-term aim to have a Tourist Information Centre and some housing.
Chair Jenny Lennon-Wood said: "We are working hard to submit bids for Coastal Communities and Heritage Lottery funding in late spring or early summer.
"If successful, we will be able to secure the site and sensitively develop its heritage buildings as an attraction for visitors and a social focus for the community."
The building is currently owned by NHS Somerset, but it has said it will allow time for the trust to develop its proposals and raise funds to buy the property.
The chair of the Minehead Chamber of Trade, Graham Sizer, said if the project was successful it would mean Minehead would be a "fully accessible all-year asset for everyone".
"However, to make this massive project a reality we need show that it has the backing of people in our community," he said.
"This is the chance for local people to help transform the town centre for the better."