Sedgemoor District Council's pledge over Hinkley research bill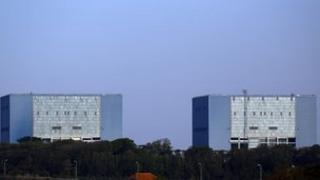 Taxpayers will not have to foot the £2.3m research costs into a proposed nuclear plant at Hinkley Point, Sedgemoor District Council has pledged.
The authority has voted to freeze council tax bill levels by not building in the costs of the research.
The council said it would review the planning application and has renewed calls for developer EDF to pay for it
EDF Energy has denied accusations it has refused to provide funds and said it is prepared to pay reasonable costs.
Plans for the plant are being looked at by an independent body.
The council had deferred setting its council tax last week due to a row over how the research would be funded.
'Options open'
Council leader, Duncan McGinty, said: "We are still considering a range of options that will allow for a level of participation in the examination process.
"What that level is, remains to be determined, but I stress it will not come from council tax."
The meeting, on Friday, also agreed to make £800,000 in savings without job or service cuts being made.
An alternative budget was proposed by the opposition Labour party but this was rejected.
Instead, savings have been achieved by sharing costs with town and parish councils, sharing office accommodation, and expanding the council's Clean Surrounds Service, which carries out litter picking, road sweeping and graffiti removal in public places.
The planning application for the new nuclear plant is being reviewed by the Infrastructure Planning Commission which deals with large scale projects.
It will recommend whether permission should be granted but the final decision rests with the government.
If built, the new power station could open in 2020.