Bath cycle bridge work 'ruining Linear Park'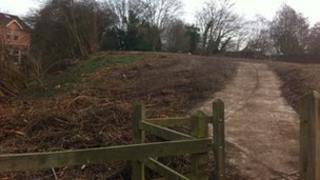 Preparatory works for two steel cycle bridges in Bath have ruined the landscape, it has been claimed.
Sustrans has cleared woodland in order to make a route through Linear Park in the south of the city.
Neighbour Susie Towers said it "looks like a bomb's been dropped". She added: "It was full of a variety of trees - hazel, willow and silver birch."
Sustrans said the same number of trees would be re-planted when the work was complete.
Peter Valentine, another nearby resident, added he thought the bridges were "unnecessary" because people could just walk across the road.
Adrian Roper, regional south west director of sustainable transport charity Sustrans, said the bridges were part of the two tunnels route, which would link with the Bristol-Bath path and eventually go out towards Midford and the national cycle route.
"It's a really fantastic route and these two bridges are an essential element of it because what they'll do is provide a continuous route and stop people from having to go up and down both these roads," he said.
He said fewer trees - about 20 - had been removed than were detailed in the planning application, and that "probably more" would be planted when the work was complete.