Weston High Street to be redeveloped in Dolphin Square changes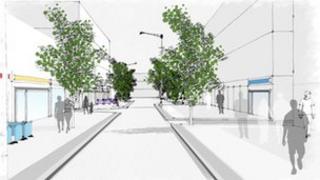 A £295,000 road improvement scheme has been announced as part of the current regeneration of Weston-super-Mare.
The High Street (south) scheme links the redevelopment of Dolphin Square with the rest of the High Street.
North Somerset Council hopes it will rejuvenate and improve the environment, making it a more desirable area to visit, shop and work.
Improvements include the widening of pavements, narrowing the carriageway, and new paving and kerbs.
New benches, street lighting and litter bins, as well as new and/or improved pedestrian crossing points and drainage are also included in the plans.
The project is being funded by the Dolphin Square developer, McLaren Life.
'Tired' looking area
"This area has looked tired for some time," said Conservative councillor Elfan Ap Rees, deputy leader and executive member for strategic planning.
"With the redevelopment work at Dolphin Square under way, there is the opportunity to give this part of the High Street a facelift without cost to hard-pressed council tax payers.
"The work may cause some localised delays but we will minimise these as far as we can."
Work is scheduled to start in April, will last for approximately 10 weeks and will be carried out by contractor Balfour Beatty on behalf of the council.
North Somerset Council and bus company First will also relocate three existing bus stops and shelters from the High Street to better locations within the town centre.
The regeneration of Dolphin Square includes a £35m shopping and leisure park, with a hotel, restaurant and a health and fitness club.
The first phase of the work is due to start in June this year, with the entire scheme completed by early 2013.