Campaign to save 115-year-old oak tree in Radstock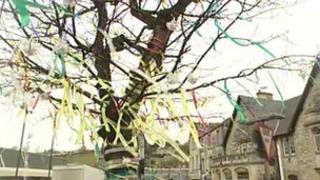 A campaign has begun to save a 115-year-old oak tree in Somerset which is due to be felled by the council.
The tree was planted in Radstock in 1897 to commemorate Queen Victoria's Diamond Jubilee and is where a teenage boy was killed in a crash 15 years ago.
Bath and North East Somerset Council has said although it preferred to keep the tree, it needed cutting down to make way for a new roundabout.
The roundabout is part of the council's road layout scheme for the town.
'Poor condition'
A spokesman for Bath and North East Somerset Council said: "Because the tree is in poor condition and its root structure is likely to be very wide spreading, the tree would not survive relocation."
A statement on the Radstock Action Group website said those who attended a ribbon signing event at the weekend in protest against the plans were "angry" and "shocked".
The group said it was "outrageous" that in HRH Queen Elizabeth's own Jubilee Year, the tree was in danger of being cut down.
Seventeen-year-old Colin Latchem died after being hit by a car near the oak tree in January 1997. Since then the tree has been a place for his family to lay flowers.
Mr Latchem's sister, Karen Emery, said: "I can't describe how important this tree is. It means an awful lot to me and his family. It is the main focal point that we come and dedicate flowers to and we would be devastated if it went."
The council has said it was committed to planting a replacement tree for the community and was in talks with the bereaved family.
"We are discussing with Colin's family about the most appropriate way to signify the location where he died that would be in addition to Colin's memorial at Peasedown Youth Centre where the council maintains a tree planted in his name and where his ashes are scattered. This could take the form of a bench made from the tree."