A flock of 60 swans to mark jubilee in Wells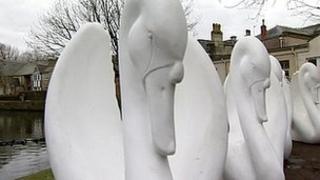 Sixty fibreglass swans providing blank canvases for artists will be dotted around Wells, Somerset, to mark the Queen's Diamond Jubilee.
The 5ft sculptures, one for each of the 60 years of the Queen's reign, will be on display from June to September.
Organisers are looking for businesses and organisations to sponsor the "Swans of Wells" and artists to decorate them.
The decorated sculptures will be sold at a charity auction in October, with net profits donated to local charities.
Danny Unwin, the mayor of Wells, said: "Having seen the success of the 'Lions of Bath' and the 'Gorillas in Bristol', it seemed a wonderful opportunity to put Wells on the map.
"We chose the swan because it is a beautiful creature and mirrors our real-life resident swans which have been gracing the moat at The Bishop's Palace for hundreds of years."
Resident swans have inhabited the palace's moat since the 19th Century when they were trained to ring a bell for food.
Megan Witty, the event organiser, said: "We have been delighted with the response so far from artists and local businesses.
"Now that the first of the swans have been hatched and everyone can see how wonderful these magnificent blank sculptures are, we hope to hear from lots more West Country companies and artists who may like to sponsor or decorate a swan."