Anti-nuclear campaigners set up camp at Hinkley C site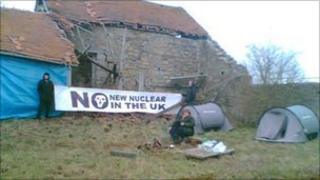 Protesters have set up camp in an abandoned farm on the site of the proposed Hinkley Point C nuclear power station in Somerset.
They are angry West Somerset Council has given EDF Energy the go-ahead for preparatory work before planning permission has been granted.
The group of about seven protesters also claim a nature reserve is at risk from the proposals.
EDF Energy said it was aware of the protest.
The South West Against Nuclear protesters arrived at the site in the early hours of Sunday.
Last July EDF Energy was granted permission to carry out site preparation works including fencing, drainage, excavation and earthworks.
A planning application for a new power station was submitted to the Infrastructure Planning Commission (IPC) in October.
Further public consultation is taking place and a final decision will be made by the energy secretary.
Protester Zoe Stone said: "We are concerned EDF's preliminary works are going to destroy a protected nature reserve, a site of Special Scientific Interest and all before they even have planning permission to build a power station.
'Options available'
"They're claiming they'll reinstate the land but how do you reinstate ancient hedgerows, wading sites for birds and bat roosts?"
She said the group planned to stay at the site "for as long as possible".
A spokesman for EDF Energy said: "We are aware of a small number of individuals who are currently on our new build site.
"Preparatory works were approved by West Somerset Council in July last year following normal planning procedures.
"We have entered into an agreement with the local authorities which sets out a number of conditions allowing us to undertake the work and will be commencing that work later this month.
"This follows three years of extensive formal engagement and formal consultation about the project.
"We would hope that these individuals will choose to leave of their own accord but, if not, there are other options available."