Bath's last gasometer 'should be saved'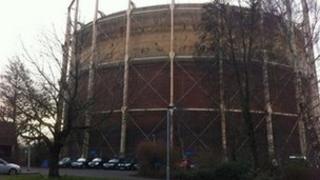 The mayor of Bath is trying to save the city's last gasometer from demolition.
Councillor Bryan Chalker - heritage champion of a city famed for Roman and Georgian architecture - said the 1920s structure was historically important.
The Bath Preservation Trust said the gasometer was not one of the reasons Bath was a World Heritage Site.
The council said it would be discussing a timetable for demolition of the structure at the Western Riverside site with developer Crest Nicholson.
The firm has referred all queries about the gasometer's demolition to North East Somerset Council (Banes).
About 3,500 homes are due to be built on the 44-acre Western Riverside site along with business properties.
Mr Chalker, who is Heritage Champion for Banes, said gasometers had been on the skyline "since Victoria times".
"The Austrians have done this, the Germans have done this - converting these. They clad them in brick.
"We have this massive old gas holder which with imagination and with a bit of vision could be turned into a massive concert hall or a museum of Bath.
"Why can't we, before we tear it down, see if we can transform it?"
Caroline Kay of the preservation trust said "structures such as this are not appropriate for the river basin in Bath".
"The gasometer is not one of the reasons Bath is a World Heritage Site."
She said the structure did not add to the qualities the UN's cultural body, Unesco, looks for in such sites.
"The trust's position is that it isn't listed and it's a very important regeneration area for the city.
"His idea that it should be saved is interesting but I would not leap forward and say it's remotely feasible."
Bath retained its status as a World Heritage Site in 2009.