Councils urge superfast broadband sign-up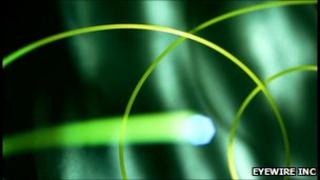 Councils in Somerset and Devon have urged people to show they are prepared to pay for superfast broadband in order to secure private sector investment.
So far, Somerset, North Somerset, Devon, Plymouth and Torbay councils have secured £50m, but need another £50m from a broadband supplier.
The councils said at least 10,000 homes and businesses needed to show that there was demand for the service.
People have been asked to take part in the survey by the end of February.
Rain-affected service
Average broadband speed in Somerset is 3Mbps per second but some areas are lower than 2Mbps per second.
If broadband speed is lower than 2Mbps per second, users are unable to access video or other multimedia at a reasonable speed.
Superfast broadband will involve installing fibre optic cables to enable broadband speed to become 10 times faster, with speeds of at least 30Mbps and up to 100Mbps per second.
Dean Bellingham, from software company Shearwell Data Limited in Exmoor, said: "On a good day we can get two megabits but that is dependent on the weather, when it gets a bit wet, it seems to slow down.
"It becomes increasingly hard to do business without high speed, there's an assumption that everyone has access to high speed internet and it becomes almost akin to trying to do business without a postal service."
About 26,000 leaflets will be sent out from Monday and it is hoped people will confirm their willingness to pay for a faster broadband connection.
David Hall, cabinet member for economic development at Somerset County Council, said: "We're looking for a snapshot at this stage, we're going to keep turning the handle and raising the awareness level and I'm very confident the demand is out there and we're going to demonstrate that effectively."
If the target is not reached, there is a danger the councils will have to return the £30m government grant which will be reassigned to another council in the country.