Young carers support in Somerset to be cut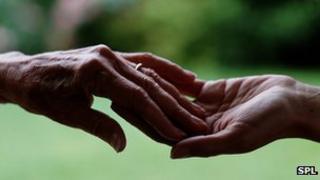 Somerset County Council is to halve its budget for supporting young carers by £70,000 through job cuts.
Three options are being considered which could see up to four posts going with more reliance on volunteers from local charities such as Friends of Somerset Young Carers (FSYC).
Stephanie Paterson from, FSYC, said: "It's far too much to expect and is too much liability for the volunteers."
The county council has said the cuts will not affect its front line service.
'Wider picture'
Cabinet member for children and young people, John Osman, said: "We're having to take a look at what we can combine with other resources; first of all the assessments we can combine with children and social care, and secondly the assistance and support we give to young people."
The council said its aim was to free up young people so they had "less caring responsibilities" and to build stronger links with the adult social care department.
Currently the council funds two full-time team leader roles, an administration assistant and four project workers.
The paid staff run activities and groups every month for young carers which are supported by the FSYC.
"We take them on trips, and sometimes there will be an educational element where we get a speaker in to talk about the pressure they're experiencing at home, and in the past we have funded counselling sessions by professional staff for them, said Ms Paterson.
"In the longer term [because of the cuts] the groups in our view are likely to be cancelled - they [the council] are assuming the groups of up to 20 young people at a time are going to be fundamentally carried out by volunteers.
"But the feedback I've been getting is that it's too much responsibility, they're happy to support but it needs to be run by professional staff."
The final decision will be made at a council meeting in February.