Taunton Firepool project faces 'difficult market' to find new firms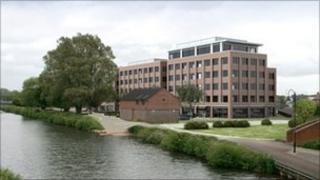 A group overseeing a £270m development in Somerset has admitted it has been difficult bringing in new firms due to the current economic climate.
The Firepool quarter development, in Taunton, will include four office blocks, a hotel and 49 flats.
So far Project Taunton has only persuaded waste management firm Viridor, which will take up a six-storey office block, to move in.
Developers said they hoped Viridor's move would attract other firms.
Project manager Mark Green said: "It's difficult economic times but to have Viridor to relocate is great news and it is also a business expansion."
'Economic cycles'
Detailed planning permission has been obtained for the six-storey office block for Viridor, and two more four-storey buildings, one five-storey building, a hotel, and a 49-apartment residential block on the south side of the River Tone.
Developers hope to have 400 townhouses and apartments as part of the wider development, which will built in the old cattle market side of Firepool, on the north side of the River Tone.
Building work for the Viridor office building has begun, but the other blocks will not be built until a business has committed to moving in.
Pete Davies, from the developers St Modwen, said: "We're hoping to progress from this building [Viridor] with another building, we're hoping to house another occupier next year, we're talking to a hotel and other firms in the private and public sector."
It is hoped the Firepool part of the wider regeneration plan for Taunton will eventually create 4,000 new jobs.
Mr Green said the development was always intended to be a "long-term project".
He said: "We've always said it would last for at least 10 years, possibly more. Temple Quay is still not complete and it is now in its 13th or 14th year, so we knew it would span over several economic cycles.
"We're in a difficult time, we hope in a few years' time things will be completely different."