Bigamist Emily Horne's fraud sentence delayed for reports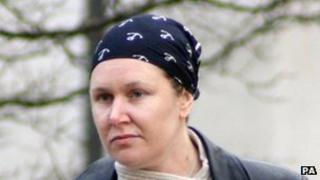 A judge has asked for a psychiatric report in the case of a serial bigamist who fooled a doctor into prescribing sleeping pills by dressing as a man.
Judge Graham Hume Jones said he wanted to know more about Emily Jane Horne before he passed sentence for fraud.
Horne, of Whitstone Hill, Pilton, had previously admitted two offences of fraud to obtain prescription drugs.
She was still subject to a suspended sentence imposed in Manchester in 2009 when she committed the offences.
'Thoroughly dishonest woman'
Taunton Crown Court heard how she duped the doctor by cropping her hair and wearing a baggy football shirt and trousers to pose as her seventh husband Craig Hadwin.
The 33-year-old - previously jailed for bigamy after never divorcing first husband Paul Rigby - fooled the unsuspecting GP during a face-to-face consultation.
The judge told Horne's barrister, Rebecca Bradbury, he was adjourning sentence for six weeks until a psychiatric report had been prepared.
"I have got the pre-sentence report saying she wants to go to prison but I have got a letter from her partner saying don't send her to prison. This has got to be investigated," the judge said.
"Your client is a thoroughly dishonest woman and, if one is being a cynic, it is very difficult to accept what is said in the pre-sentence report, particularly what is being said in the medical conclusions.
"It seems to me the only way this will be resolved is with a full medical and psychiatric report," he added.
Former glamour model Horne, who changed her name by deed poll in 2010 to Max Accastes Quiberon, has appeared in court numerous times over her tangled love life.
Horne, who has been diagnosed with a personality disorder, made world headlines with her bigamist lifestyle, appeared in adult movies and was also the subject of a Channel 4 documentary.