Dulverton switches off lights for BBC Stargazing Live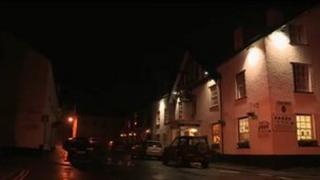 People in an Exmoor town were challenged to switch off their lights as part of the BBC's Stargazing Live.
It was hoped that if everyone in Dulverton took part, it would reduce light pollution so the stars could be seen more clearly.
Astronomer Mark Thompson said: "The whole idea is to show that even a small town, which is still quite dark, can give off quite a lot of light."
In November, Exmoor was granted International Dark-Sky Reserve status.
And the event in Dulverton gained a lot of support from local residents and businesses.
'Pretty nervous'
Claire O'Connor, from Exmoor National Park Authority, said: "Even the cake shop has made the planet Saturn complete with rings in cake form and that's what it's really been all about for us, we want people to just enjoy the night sky, to treasure the fact we have them and to look after them.
"You don't need special equipment, if you have a decent pair of binoculars that's all you need on Exmoor."
The town's switch-off was featured live on the programme.
Town mayor Chris Nelder said: "It needed a bit of organisation to get everyone to say yes, the BBC had to go to every home in the town, and unless they got that, I don't think we could have done it.
Mr Thompson had been persuading residents and business owners to take part, by visiting Dulverton ahead of the event.
"It relies entirely on people responding positively and agreeing to join in," he said
"It's all out of my hands when it comes to the show regardless of how much work we put in campaigning."
The BBC Stargazing programme was broadcast earlier on BBC Two.