Surprise over 'dwarf-throwing' mention at Golden Globes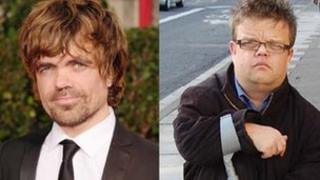 A man from Somerset has expressed surprise after being mentioned during an acceptance speech by US actor Peter Dinklage at the Golden Globe awards.
During the acceptance speech, Mr Dinklage paid tribute to Martin Henderson by asking people to Google him.
The 37-year-old, from Milborne Port, had been injured in a "dwarf-throwing" attack in Wincanton in October.
He said: "I just couldn't believe it when I woke up yesterday morning."
'Easy target'
The 37-year-old has been left with serious back injuries since the attack and will need a specially-made wheelchair for longer journeys.
"I keep getting numbness in my left leg and I just keep falling over and I have broken my left wrist," Mr Henderson said.
Mr Henderson, who is 4ft 6in (1.3m) tall, was dropped from a height of about three feet (1m) by an unknown attacker who was about 5ft 8in (1.7m) tall.
"I never heard of anyone being picked on like this. I feel very, very upset about it. It is frightening. I think we're an easy target," he said.