Malcolm Beardon, 79, jailed for killing wife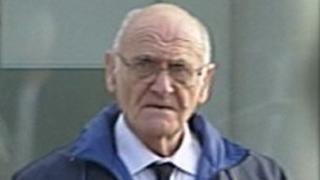 A 79-year-old man from Somerset who was said to have "snapped" and strangled the wife he had cared for has been jailed for 12 months.
Malcolm Beardon, of Churchfields, Wellington, admitted the manslaughter of Margaret, 78, who had dementia.
The manslaughter plea was accepted by the prosecution on the grounds that Beardon had lost control after caring for his wife for more than a decade.
Mrs Beardon was found dead at the couple's home on 15 July.
Exeter Crown Court heard that Beardon had been caring for his wife of 58 years - and childhood sweetheart - for more than a decade.
'Impeccable character'
Judge Graham Cottle said that to describe the case as tragic would be "a significant understatement".
He described Beardon as having been a man of "impeccable character" and added: "I am sure that what you did will haunt you for the rest of your days."
The court heard that as Mrs Beardon's dementia progressed, she no longer recognised her home, her family, or her husband.
At a previous hearing, the court was told that after strangling his wife, Beardon had phoned his daughter to tell her.
He had rejected offers for help, insisting that he could cope, the court heard.
An Alzheimer's Society spokesman said that caring for someone with dementia as the disease progressed was a "huge strain".
"It's a 24-seven job, there's no holidays and it's emotionally and physically draining for everyone involved," he said.