Man with restricted growth injured in street attack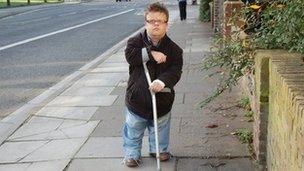 A man with restricted growth from Somerset has been left with serious back injuries after being picked up and dropped on the ground.
Martin Henderson, 37, was celebrating his birthday with friends at the White Horse pub, in Wincanton, on 7 October.
The attack took place when he went outside the pub for a cigarette.
Mr Henderson believes the attacker was influenced by a dwarf-throwing contest in the New Zealand bar attended by ex England rugby captain Mike Tindall.
He said: "With the rugby one, the dwarf throwing... the guy might have thought, let's try it out on him."
Mr Henderson, who is 4ft 6in (1.3m) tall, was dropped from a height of about three feet (1m) by his attacker who was about 5ft 8in (1.7m) tall.
The 37-year-old suffered tissue damage and the attack also worsened a pre-existing condition known as spinal stenosis.
This is the narrowing of the central spinal canal or side root canals of the spine which causes pressure on the nerves in the canal, leading to pain in the lower back and legs.
"I'm having a wheelchair made to measure because I'm finding it hard to walk long distances," Mr Henderson said.
Police have appealed for witnesses but have not been able to identify the culprit.
"Because I was in and out of hospital, I had so much on my mind at the time and I didn't go to the police straight away because I was in so much pain," the victim said.
He now hopes this appeal will help the police find his attacker.
"I think he should be caught because of what I've gone through, I wouldn't want to wish it on anyone."
Related Internet Links
The BBC is not responsible for the content of external sites.