'Jack the Ripper' manuscript to be published worldwide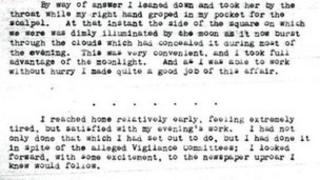 A manuscript possibly written by Victorian serial killer Jack the Ripper is to be published worldwide.
The document was unearthed at the Montacute TV and Radio museum, Somerset, in October 2009 among the possessions of children's author SG Hulme Beaman.
It is thought to have been written in the 1920s and is entitled The Autobiography of James Carnac.
Ripper historian Paul Begg has read the whole manuscript and said it could not be dismissed as a piece of fiction as "you find all sorts of questions and lots of niggles" about its content and provenance.
The manuscript is the first time the name James Willoughby Carnac has been linked to Jack the Ripper - although no public records have yet confirmed whether Willoughby Carnac existed.
Other suspects have been put forward in the past by Ripper historians, but to date his true identity has never been discovered.
'Modern feel'
Jack the Ripper killed and mutilated at least five prostitutes in London's East End in 1888.
The book is divided into three parts; the first two sections describe the real-life killings, while the third part, according to Mr Begg, is "a very contrived, very poor fiction".
"You have James Carnac suddenly saying he is terrified of being burned alive and of course that is how he dies in the book, so he gets his comeuppance at the end.
"But the first two parts seem to be written by someone else."
He said the book was interesting and "very modern, in that Carnac kills because he enjoys it, so it has a certain modern feel to it."
Contemporary novels of that time would normally have tried to explain the killer's motives.
"Practically all works of fictions and for decades after, attempted to explain why the Ripper killed, they always tried to give an explanation because they didn't really understand serial killers as we do today, in this case it's a very modern concept.
"This is quite an unusual approach so you begin to wonder whether this is all together a novel or whether it could be based on something else - or does it reflect a psychologically unbalanced person?"
Mr Begg said he believed the descriptions of the murders were not factually accurate and doubted whether a serial killer would remember the time and dates or detail of each murder years later.
Of the descriptions of the killings, he said one passage had stood out.
"There is a throwaway remark where James Carnac is in the act of murdering the last of the victims, Mary Kelly, where he sees a reflection of himself in a mirror - and this has a profound effect on him.
"I found one newspaper report from an American newspaper which referred to a mirror in Mary Kelly's room... it is interesting it was found in one newspaper and it plays a profound part in Carnac's account."
'Literary convention'
The connection between Beaman and Carnac is also intriguing as Beaman wrote an introduction, and claims to have taken out some of the more disturbing descriptions of the killings.
Beaman was best known for solely creating children's characters and books such as Larry the Lamb and Toytown.
"It's very, very odd, he [Beaman] actually claims he received the manuscript from Carnac, he knew Carnac, and it was bequeathed to him," Mr Begg said.
"But then you think this is a literary convention to claim it was written by someone else, but why would he want to associate himself with the Ripper? He wrote for children."
Mr Begg said the manuscript itself looked like the original had been added to, as some pages were numbered and some were not and part three was written on a different typewriter.
The historian has not found any evidence or records to show that James Carnac existed.
"The main thing for people is that it isn't as obvious as it appears to be.
"You might think it's obviously a work of fiction but you begin to ask questions about it and you realise it's not a straightforward novel."