Cheddar selected for new reservoir in Somerset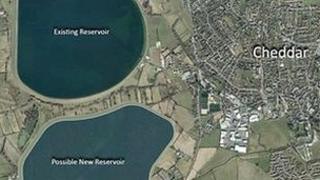 A new site for a major reservoir in Somerset has been chosen, not far from the existing Cheddar Reservoir.
Bristol Water said it has been talking about the need for a new reservoir for many years to meet the growing demands of a rising population.
Cheddar was selected from a shortlist of five locations based on economic, environmental and geological grounds.
A full consultation process and investigations will take place before a planning application is submitted.
Other potential sites near Wookey, Banwell, Axbridge and Clewer were all ruled out.
Bristol Water said it had informed landowners affected by the investigations of the various outcomes.
Landowner Steve Russett said it would "devalue" his property.
"Look at this wonderful area with beautiful views everywhere and natural wildlife. It'll all be gone," he said.