Vigil is held for soldier who died on 'jet black' road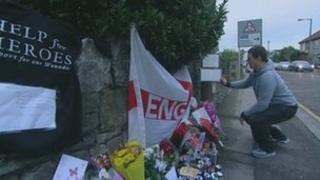 A candlelit vigil has been held in memory of a soldier who died in Clevedon in an area locals claim does not have sufficient street lighting.
Edward Heal, 19, who was based at Tidworth in Wiltshire, was killed on Kenn Road, Clevedon, early on Christmas Day when he was hit by a car.
Friend Nikki Lee said: "The road Ed died on was absolutely jet black."
North Somerset Council said it would not be appropriate to comment until a police investigation had concluded.
Street lights on the section of road that Mr Heal died on are turned off between midnight and 05:00 GMT.
"Any decision to switch off street lights is carefully considered and investigated before it is implemented, and various organisations including the emergency services are consulted," the council said.
But Ms Lee said the street lighting in the area was "abysmal".
"I'm frightened to even walk outside my front door on my estate. In the area [of the crash] there's only a few lights on but they need more.
"At the end of the day, you're talking about life and not money or cuts," she said.
During the vigil, which took place at midnight, the council turned the lights on for safety reasons.