Protest at council's woodland sale in Somerset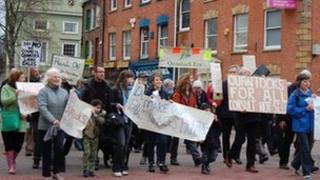 A protest march has taken place in Taunton against the county council's plans to sell woodland.
About 70 people took part in the rally at lunchtime and finished by handing in a petition to County Hall.
Protester, Chrissie Amey, said: "In private ownership... they might bring in new ways to use their land, like using it to land helicopters on."
The Tory-run council has said the land will be sold to another public body, in this case, the Forestry Commission.
The local authority has also promised public access to the land and footpaths would be protected if it is sold.
Cabinet member David Huxtable (Con) said: "I can absolutely reassure them all that walkers, riders and in fact anyone who currently uses this area of land will continue to be able to do so.
"They will notice no change whatsoever. All we are proposing is that ownership is transferred from one public body to another."
But protesters have their doubts.
"Once you sell something, who is going to monitor the management of the land? It's very easy to say that, but we're not entirely convinced," said Ms Amey.
The plan is to sell a total of 1,950 acres of woodland and moorland in three areas of the Quantocks, which the council believes will raise up to £1.3m.
But the opposition party at the council believe the land would not reach this sum and are against the proposal.
Councillor Sam Crabb, (Lib Dem), said: "The Friends of the Quantocks Society have summed this decision up perfectly already: whoever purchases the woodlands would have to be very publicly spirited because none of the pieces of land are profitable.
"This raises a serious question over both the motives of any prospective buyer and the valuation of the land drawn up by the Conservatives."
Land which could be sold are Great Wood, Custom Common at Over Stowey, and Thorncombe Hill near Crowcombe.
A further 13 have been reviewed as suitable for sale but have not been advertised.