'Bully' Bridgwater-based clampers jailed by judge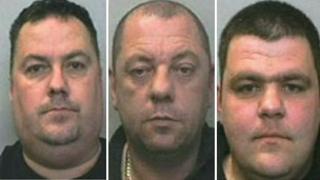 Three men from Bridgwater, Somerset, who "bullied" motorists out of thousands of pounds in an illegal clamping business have been jailed.
Drivers whose cars were impounded by Bridgwater-based A1 Clamping Services had to pay up to £500 to get them back.
Boss Carlton Williams, 47, Lee Stagg, 43, and Michael Riddle, 30, were all jailed for conspiracy to blackmail.
Judge Graham Hume Jones said they had used "bullying and aggressive behaviour" to get the cash.
'Eye watering' demands
The three men all appeared before Taunton Crown Court where the prosecution said their activities were tantamount to blackmail.
The court was told the men lay in wait day and night and targeted vulnerable motorists - often mothers with children.
It was also told the fees they were demanding were "eye watering" - up to £500 - and always in cash.
Williams, who also admitted benefit fraud totalling £42,000, was jailed for five-and-a-half years.
Stagg, who also admitted benefit fraud of £12,000, received a three-year jail term and Riddle, an employee of the company, was jailed for 18 months.
'Shocked' by treatment
One of their victims, Sally Mendonca, an Army major who lives in York, said she had been visiting a relative in Devon when her car was clamped and towed away.
She originally thought her car had been stolen and was about to report it to the police.
"I explained the situation [to the clamper] - I was just back from Iraq for a short time and all my military kit was in that car and how urgently I needed it.
"He laughed and said 'I just get told these stories all the time'".
Speaking after the case Sgt Paul Endicott, from Avon and Somerset Police, said he had known the trio for a number of years.
"I was shocked by the way they treated people. The judge clearly stated they wore uniforms to make them look more authentic and they bullied people into handing over lots of money for their own property," he added.