Weston General Hospital hit by norovirus bug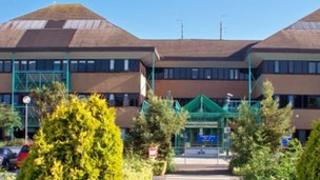 Four wards at Weston General Hospital have restricted access following an outbreak of the norovirus winter vomiting bug.
All 11 wards at the hospital have also had patient visiting times reduced to an hour a day.
Weston Area Health NHS Trust, which runs the hospital, will allow visiting between 18:30 and 19:30 GMT daily. Only two visitors will be allowed per bed.
The trust hopes to be able to lift the restrictions in time for Christmas.
It is recommended that people with queries telephone the ward on which their relative or friend is a patient for further advice.
Infection control
Ian Bramley, director of nursing at Weston Area Health NHS Trust, said: "We understand that people want to visit family and friends in hospital, but we are asking visitors to be patient while we have restrictions in place.
"We do everything we can to prevent and control infection and these restrictions are necessary for us to continue to provide patients with the best possible care."
Visitors of patients receiving palliative care are exempt from the restrictions.
The highly contagious norovirus causes nausea, vomiting and diarrhoea.
The symptoms begin about 12 to 48 hours after infection and usually last for between 12 and 60 hours.
"Hospital wards are never closed, but it makes sense to restrict new admissions or limit visiting to minimise the risk of [the bug] spreading, as we are doing at present," added Mr Bramley.