Roman coins given Museum of Somerset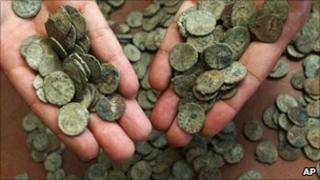 More than 2,000 bronze Roman coins found at a Somerset water treatment works have been donated to a museum.
The coins, buried in about 300 AD, were unearthed in 2006 by archaeologists investigating the Maundown water treatment works site near Wiveliscombe.
Described as "a hugely significant find", the Maundown Hoard has been donated by Wessex Water to the Museum of Somerset in Taunton Castle.
The work of cleaning and recording the coins was done at the British Museum.
The 2,118 coins are due to go on display alongside the Frome Hoard, the second largest collection of Roman coins found in the UK.
Roman 'recession'
"The coins are radiate coins, the same sort of coins as the Frome Hoard, and they were actually found in 2006 but it's taken time to sort it out, identify it and actually catalogue the whole collection," said county archaeologist Bob Croft.
"But the key thing about this is that it was found inside a building - somebody put it there, somebody put the coins in a pot, somebody put a little slate on top to seal it and left it."
According to Mr Croft, many hoards of Roman coins date back to about 300AD, suggesting people were saving during that period.
"We're talking right at the end of the 3rd Century and times were hard.
"They were going through a recession, money wasn't worth much and there was no point putting it in the bank.
"So people were looking after their money and putting it under the mattress - but it was quite a substantive amount."
Other finds at the site near Wiveliscombe, including pottery and a shale bracelet, have also been donated to the museum.