Tessa Munt MP campaigns for Royal Mail database change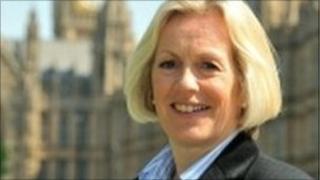 A village that was never in Avon is still being labelled as part of the county, 15 years after its dissolution.
Residents of Shipham, Somerset say letters from the government and people using the Royal Mail database have been addressed to "Shipham, Avon" for years.
Tessa Munt, Liberal Democrat MP for Wells, said she would push Royal Mail to sort the matter out.
Royal Mail said: "Postcode boundaries do not necessarily reflect geographical or administrative boundaries."
The county of Avon was abolished in 1996 and replaced with four unitary authorities.
Ms Munt said the situation was "just ridiculous".
'Complete tosh'
In the House of Commons, she asked Consumer Minister Ed Davey "to wade into this ancient, decades-old dispute on behalf of the long-suffering villagers".
"When complaints are made to the Royal Mail's headquarters, they elicit the reply, 'We like to give users an historical perspective'," she said.
"That is complete tosh. The Royal Mail does not update its database and will not correct inaccuracies in the address details.
"This complaint has rumbled on for years and years, and I think it is a pretty sad reflection on the situation at the Royal Mail in 2011 if its management is unable to correct a simple error on its own database."
Shipham parish councillor Ian Firth said: "It would be better if it was properly addressed as Somerset.
"It would make a lot of sense if Royal Mail would amend its database to reflect the true situation."
'Disproportionate' cost
Lib Dem Mr Davey told Ms Munt that he has raised the matter, which was shared by many people across the UK, with Royal Mail before, "and it believes that the costs of changing its systems would be disproportionate".
Royal Mail spokesman Mike Norman said the organisation had consulted with users of its Postal Address File database.
"The users have raised concerns about the disruption to their services that the deletion of any county data would bring," he said.
"They have requested that Royal Mail continue to provide this information as a separate file until the review of the licence in 2013, and that after this point there should be a transitional period if this data is to be removed.
"A postal address, including a postcode, is designed to ensure the accurate sorting, routing and delivery of our customers' mail."