Somerset County Council plans to sell woodland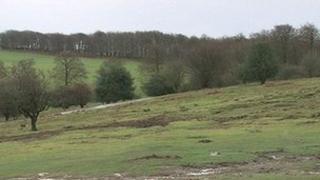 Woods and moorland in designated areas of outstanding natural beauty could be sold by Somerset County Council.
The authority has announced its intention to "dispose of three parcels of land" including Great Wood, Custom Common at Over Stowey, and Thorncombe Hill near Crowcombe.
Friends of the Quantocks said community assets "should stay in public hands".
Conservative councillor David Huxtable said "the significant sums of money" raised could be reinvested.
In the past four years, nearly 40 areas of council-owned land in the Quantocks, the Mendips and the Blackdown Hills have been reviewed with 13 considered suitable for sale.
Now the authority is planning to sell a total of 1,950 acres of woodland and moorland in three areas of the Quantocks.
'Significant sums'
According to Mr Huxtable, the Tory-councillor responsible for the sell-off, Thorncombe Hill "is worth £600,000 with no grazing rights and guaranteed public access".
The 200 acre Great Wood, currently being leased by the Forestry Commission, can only be sold to current leaseholders.
"All this land has got pretty much guaranteed public access so I really don't think the public need to be worried about who owns it because they'll still be able to use it," he said.
"And some of them [the areas for sale] have been valued at £600,000 and £700,000 - significant sums of money - which we could reinvest in roads and schools."
Laetitia Kelly, chair of the Friends of the Quantocks, said they were concerned about the management of the land under private ownership.
"All the rights of way would have to stay and all the conditions of public access would have to stay," she said.
"So whoever buys it would have to be very publicly spirited because it's not a money spinner any of these pieces of land."
Members of the public have until 23 December to respond to the proposals.