Somerset farmer fears roosting starlings may cause salmonella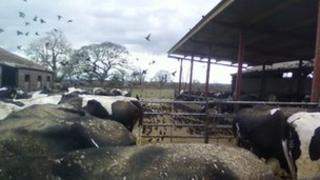 A farmer from the Somerset Levels has said roosting starlings are costing his business up to £40,000 a year.
He fears the droppings, which contaminate his animal feed, may also result in salmonella in his cattle's dairy milk.
"The calves and adult cattle both suffer dietary problems, some become seriously ill and some die," said the farmer, who wishes to remain anonymous.
Area MP David Heath (Lib Dem) has raised the issue with the government.
Mr Heath, MP for Somerton and Frome, wants to explore ways of solving the problem but does not believe a cull is an option, as they are a protected species.
"We do need more research into the migratory patterns of these birds and find out why it's happening," he said.
Thousands of starlings migrate from Baltic countries, such as Russia, to Somerset and other parts of the UK over the winter months.
In recent years their murmurations as they prepare to roost have become a major attraction for wildlife enthusiasts.
Mr Heath said he wanted to explore whether the Environmental Stewardship programmes could help farmers affected in this way.
These schemes offer grants to farmers to help them manage their land and protect wildlife at the same time.
No-one was available for comment from DEFRA.
The farmer claims he has lost 40 calves as a result of the droppings contaminating the animal feed, but believes vaccination against salmonella is not viable as there are so many different strains.
RSPB spokesman, Graham Madge, said: "The fact that starlings are visiting Somerset are not because the RSPB are encouraging them, it's basically because these birds can find plenty of food in areas that are relatively warm for the winter.
"What we are doing is obviously highlighting the spectacle to the public because it's something of national renown."