M5 report identified fog risk before crash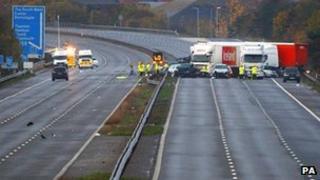 The Highways Agency was advised to upgrade fog warning systems on part of the M5 more than 18 months before a crash killed seven people.
Police are investigating if smoke from a fireworks display or fog contributed to the crash near Taunton, Somerset, but a cause has not been determined.
The Highways Agency said it would only look at safety improvements when a police investigation had concluded.
Fifty-one people were also hurt in the 34-vehicle pile-up on 4 November.
A report by consultants Balfour Beatty-Mott McDonald into warning systems on the motorway, which was handed to the agency in April 2010, said the M5 as a whole suffered significant fog problems and the area around the crash site was rated as high risk for fog.
The report stated an automated system triggered by fog would be cost-effective and that much of the infrastructure was already in place.
The systems are already in use on the M25 and the technology has also been installed on a number of motorways in the North West.
'Big fog danger'
The current system on the M5 can only be manually activated if fog is seen on the road - either via CCTV or from police calling in to the Highways Agency control centre.
On the night of the crash the agency said it did not receive any such reports so the signs were not switched on.
The agency said it had no plans to upgrade the fog-detection equipment, and would only look at safety improvements on the M5 once the results of the police investigation were known.
"We cannot comment on the possible causes of the collision on the M5 while police investigations are taking place," a spokesman said.
"We will consider any questions about potential safety improvements once the results of the investigation are known."
However some survivors of the crash, which happened at junction 25, believe immediate action should be taken.
Tom Hamill, from Wells, Somerset, said: "There's a big fog danger on the whole of the M5, the earliest indication you can give people that they need to slow down is going to be beneficial.
"Even 10mph, 15mph would have made some of those fatal crashes perhaps near fatal, and given some of those people half a chance."
The BBC has learned the Met Office is assisting police with their investigation.
A coroner's inquest has opened into the deaths of the crash victims and is expected to resume in five month's time.
More on this story can be seen on Inside Out West and Inside Out South West on Monday 12 December on BBC One at 19:30 GMT. The programme is also available on the BBC iPlayer for seven days.