David Cameron thanks 'amazing' Somerset foster parent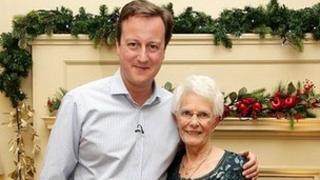 A Somerset woman has been recognised by David Cameron for fostering around 300 children.
Doreen Roberts, 78, from Langport, was taken to Downing Street for a surprise meeting with the prime minister on Sunday.
In the last 47 years Mrs Roberts, and her late husband Don, have fostered the children as well as raising five of their own.
The prime minister said she was an example of the "big society".
Mrs Roberts, who became an MBE in the Queen's birthday honours in 2006, was taken to meet David Cameron on the ITV programme Text Santa.
The Christmas show is helping UK charities to raise money including the Give a Child a Home appeal.
During the visit, Mr Cameron told Mrs Roberts: "It's amazing what you have done, 300 children.
"I mean most of us have enough trouble with one, two or three, but 300 is amazing so thank you very much indeed."
Mrs Roberts, who is currently fostering a two-year-old at home and is waiting to take care of another baby said fostering gave her "a lot of enjoyment".
"It's hard work but you get back so much more than you put into it," she said.
'Shocking' figures
"I do what I do - I don't want any recognition whatsoever for what I do.
"But we do need lots and lots more foster carers and I only agreed to appear on the show if I could get in my plug for fostering."
Last October, the prime minister launched the Give a Child a Home campaign to encourage adoption and fostering.
He said: "It is shocking that of the 3,600 children under the age of one in care, only 60 were adopted last year and there are now 65,000 children in the care system.
"I hope her story will inspire others. It brings home how much joy children bring to our lives and shows how we can support them."