Afghanistan service medals for RNAS Yeovilton personnel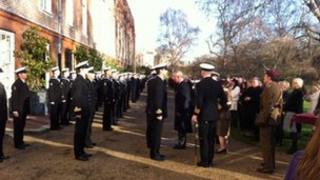 Prince Charles has presented operational medals to squadrons from RNAS Yeovilton.
They were handed out to 110 men and women from Commando Helicopter Force (CHF) squadrons, 845, 846 and 847, for their work in Afghanistan.
Lt William Major said: "It's hugely rewarding to be able to support the troops on the ground."
During the ceremony in central London the three squadrons marched from Wellington Barracks to Clarence House.
'Really amazing'
"It was a fantastic feeling to march around in front of Buckingham Palace and turn on to the Mall. It gives you a sense of it being worthwhile," said Lt Major.
The medals were handed out in the gardens of Clarence House, and a reception followed at St James's Palace state apartments.
Lt Kate Munari from the Royal Australian Navy, who has completed three tours of duty with 846 squadron in Afghanistan, said of the ceremony: "It's really amazing. I would have loved it if my parents could have been here."
Elements of 845 and 846 NAS Sea King helicopters have been operating from Camp Bastion, Afghanistan, since 2007 and the CHF has been on the frontline of operations since the 1991 Gulf War.
Prince Charles' connection with RNAS Yeovilton dates back to the 1970s when he was based with 845 squadron.