Glastonbury Holy Thorn cutting sent to The Queen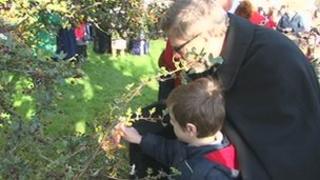 A sprig from a Holy Thorn Tree in Glastonbury has been cut and is due to be sent to The Queen.
It is a tradition dating back more than 100 years with the sprig being sent to the monarch to put on her Christmas table.
The sprig is cut by the oldest child at St John's Infants School. This year it was the turn of Jack Rolls, aged seven.
Normally the branch is cut from the tree on Wearyall Hill but it was damaged by vandals in December 2010.
Monks took cuttings
The tree remains in place and shoots are beginning to sprout from the trunk.
The Holy Thorn grew from a cutting of a tree said to have been planted by Joseph of Arimathea 2,000 years ago.
It is believed monks from Glastonbury Abbey took care of the original and took cuttings to preserve the tree.
A number of the trees exist in the Somerset town but the one in St John's churchyard currently has the "sacred" status.
The Holy Thorn is unusual as it flowers twice a year - in May and at Christmas - unlike a normal hawthorn which flowers once in May.