Victims' families to attend M5 crash benefit gig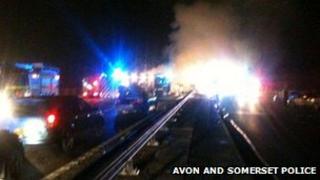 Organisers of a benefit concert for the M5 crash memorial fund have said family and friends of the victims will attend.
The gig, featuring acts including The Overtones and comedian Mark Olver, will take place at the Grand Pier, Weston-super-Mare, at 19:30 GMT on Sunday.
A minute's silence will be held during the event to remember the seven people killed in the crash on 4 November.
Organiser John Langley said: "It was something I read about and thought something needed to be done."
He said: "It's affected a lot of people locally, the whole community, and people as far away as America and over the channel in Europe have also been in touch to offer support.
"We have been contacted by some of the relatives of people who died in the crash thanking us for organising the benefit night, and some of them even want to attend the gig with their families."
The M5 memorial fund plans to raise money for a permanent memorial and for charities linked to the emergency services.
Fifty-one people were also injured in the crash.