Head of school where teacher abused pupils leaves post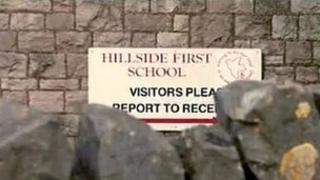 The head of a primary school in Weston-super-Mare, where a teacher filmed himself sexually abusing children as young as six, has left his post.
Chris Hood, who was head of Hillside First School at the time of the offences, was suspended in January pending a disciplinary inquiry.
In a statement North Somerset Council said he was "no longer the head".
Teacher Nigel Leat, 52, was jailed in June for 36 offences including attempted rape and sexual assault.
The council statement said: "We can confirm that following a disciplinary process Chris Hood is no longer the head at Hillside School.
"David Amos will continue as interim head teacher while the governors recruit a new head teacher for the school."
The council said it was keen to stress Mr Hood had not been accused of any involvement, and that his departure did not indicate that he was party to Leat's activities.
Leat, of Bloomfield Road, Bristol, was given an indeterminate sentence when he was jailed at Bristol Crown Court.
An independent serious case review is being carried out and is expected to report shortly, the council said.