Occupy Bath protesters to hold public debate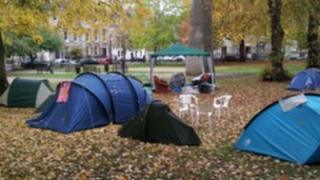 Organisers of the Occupy Bath protest have held a public debate on topics they have been campaigning about.
They said it was a chance for people to debate issues in a "non-partisan or politically-aligned forum".
Campaigners opposed to financial inequality and politicians' handling of the economy have been camped in Queen Square since 30 October.
The first Bath People's Assembly was held on Friday evening at The Friends Meeting House.
One of the protesters, Dave Stephens, said: "We want to start moving forward in a way we can generate ideas and do something more direct.
"The camp is not the easiest place to organise direct action. The assembly will be a more direct and organised way to protest on national and local issues."
Mr Stephens said there were no plans to end the camp which has been in place since 30 October.
The Occupy Bath protest is part of an international anti-capitalist and anti-poverty movement.