Adams Foods cheese factory in Wincanton could close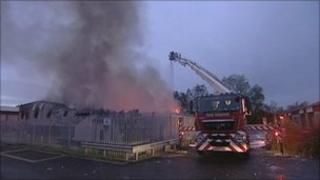 A Somerset cheese-packing facility which partially burned down in September might close permanently.
A warehouse on the Adams Foods site in Wincanton was destroyed in what was described by firefighters as "one of the biggest fires for some time".
The main processing area of the plant was not damaged in the fire.
The firm is now considering consolidating its operations at a £27m facility in Leek, Staffordshire, and has started a consultation.
'Redeployment opportunities'
The firm, which makes the Pilgrims Choice brand of cheddar, has not said how many staff are affected but added that 50 new positions could be created in Staffordshire.
During the fire, several hundred tonnes of cheddar in a storage warehouse were destroyed.
Ian Toal, the firm's chief executive, said: "We recognise the role of Adams Foods Limited in the local area and the significant contribution of our employees at Wincanton and this will be considered as part of our consultation.
"If the outcome of the review results in the closure of the Wincanton facility, we will seek to maximize opportunities for redeployment.
"We have spoken to employees today and we are fully committed to maintaining open dialogue with them until this review has been concluded."