Somerset strikes: Pensions march in Taunton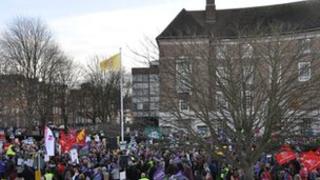 A rally attracting more than 2,000 people has taken place in a Somerset town against proposed pension changes.
The strike action, which was part of a national day of protest, began with a march through Taunton town centre.
Trade unions say the changes will mean working for longer for a lower pension, and the money raised will not be re-invested into the pension scheme.
The government has said the strikes will achieve nothing and that further talks would be a better move forward.
'Fantastic response'
Regional organiser for Unison Helen Eccles said: "I think it's gone really well, we've seen more than 2,000 people taking part in the march, and as we came up through the town centre we got a fantastic response from people who were all clapping and engaging with us."
But Fraser Wallace is a primary school teacher at Cotford St Luke Primary and was one of the 60% percent of the NUT members who chose not to strike.
He said: "I didn't get into teaching for the money, obviously it's not the best-paid job in the world.
"I got into it because I love teaching and if I went on strike I would be letting down the children.
"A day may not sound like a lot but we do a lot in a day and it does have an impact on their learning."
'Taxing ordinary workers'
Prime Minister David Cameron described the national strike as a "damp squib".
Somerset secretary from the teachers' union NASUWT Tracey Holland took part in the rally outside County Hall.
During her speech she said: "Please remember teachers are taxpayers too, they have been responsible, they have saved for their retirement.
"The coalition is taxing ordinary workers whilst allowing a repetition of the behaviour which caused the banking crisis in the first place."
A total of 138 schools out of 254 in the Somerset County Council area were closed due to strike action, the council said, but Unison said it believed the figure was closer to 200.
Musgrove Park Hospital in Taunton contacted patients whose appointments and operations needed to be rescheduled.
Aidan Debard, a radiographer, took part in the march.
He said: "I pay a lot of my wages into my pension, that's why I should have by the end of it what should be a reasonable pension.
"I work for the NHS and last year the NHS pension fund made £1.7bn profit which the government took - my pension is balanced and fair and it should be the same for everybody."
Essential services
The Royal United Hospital in Bath said all its clinics and services operated with little disruption, and estimated 3% of the workforce took part in the strikes, equating to about 100-110 people.
Somerset County Council said 650 workers went on strike, which they said equated to 12% of workforce and 30% of union members.
In Bath, protesters assembled at Royal Victoria Park for a march which began at 14:00 GMT and finished with a rally at 15:00 GMT.
Bath and North East Somerset Council said priority had been given to essential services.
North Somerset Council said some services such as schools and libraries were disrupted by the strike.