Turnip Prize bad art contest finalists are revealed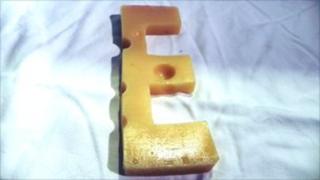 A piece of cheese cut into the shape of the letter E and a fish full of dollars are among the finalists for the alternative Turnip Prize for bad art.
Organisers of the contest say they are the "antidote" to the Turner Prize, announcing the winner on the same day.
Other finalists include an Action Man toy - called First Class Mail - with a carefully placed stamp and a coloured rock called Half a Stone Lighter.
The winner will be revealed at the New Inn in Wedmore, Somerset, in December.
Each year the winning Turnip Prize entry is auctioned, with the money raised going to childhood bereavement charity Winston's Wish.
According to organisers, Bristol graffiti artist Banksy may have entered with a gold-framed stick drawing, which questions if bad art was still art or just rubbish.
Organiser Trevor Prideaux said: "I have made various enquiries into the authenticity of the work and have been informed that it is certainly in the style of Banksy.
"The fact that it was left anonymously only adds to the growing possibility that it could be."
That entry did not make the final shortlist for the contest, which has been running for 12 years.