EDF Energy's Hinkley Point plans released to public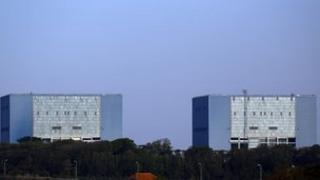 Plans for a new nuclear power station at Hinkley Point in Somerset have been released to the public.
EDF Energy handed its application to the Infrastructure Planning Commission (IPC), which deals with large-scale projects, on 31 October.
The 30,000-page document has now been accepted by the IPC allowing its release to the public for scrutiny.
Further public consultation will take place and the final decision will be made by the energy secretary.
Bypass for Cannington
The document contains details of a bypass and park and ride site for the village of Cannington, about four miles north-west of Bridgwater.
Despite a campaign for a Bridgwater bypass this has not been included.
Another park and ride site is planned for Williton, although no worker accommodation is planned.
Instead, campuses have been earmarked for the Hinkley site itself as well as two areas in Bridgwater.
A series of road improvements have been set out for the M5 at junctions 23 and 24 at Bridgwater where there will also be park and ride and lorry sites.
Several road widening schemes along the A39 and at roundabouts along the main routes to Hinkley have also been outlined.
Before people can take part in the public consultation they will have to register with the IPC, however the deadline to register will be set by EDF Energy.
It must be a minimum of 28 days but could be longer in order take into account the Christmas and New Year public holidays.
Earlier this month, three Somerset councils said in a report to the IPC that the public consultation carried out by EDF Energy was adequate.
But West Somerset, Sedgemoor, and Somerset councils highlighted concerns about a lack of detail about transport proposals and said they felt not enough effort had been made to contact the whole community.
The application has also attracted criticism from anti-nuclear campaigners who believe nuclear power is unsafe.
If the application is approved, the new nuclear power station could open in 2020.