Duo share spoils at Somerset mince pie eating contest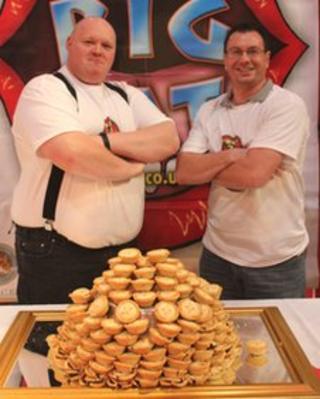 More than 220 mince pies were eaten within 10 minutes at a Somerset contest which featured 24 people.
Michael Doggrell, from Glastonbury, and Lee Palmer, of Swindon, shared the £1,000 prize after both got through 19 pies at Wookey Hole's Big Eat 2011.
Mr Doggrell, 33, said it felt really good to win as he had only taken part for fun.
Competitive eater Sonya Thomas, from the US, set the record in 2006 by eating 46 mince pies in 10 minutes.
Second place was also tied as Garry Harrison, from Wells, and Clive Pearson, from Radstock, both finished off 15 mince pies within the time.
Winner Mr Doggrell said his tactic was "basically just to switch off" but drinking a lot of water had "helped a great deal" as well.
"You just get into a little pattern and focus on what you're doing and almost go on autopilot," he said.
'Quite messy'
"You see everyone else eating and tell yourself that you've got to keep going."
He is now planning to spend his £500 prize on the honeymoon he was unable to afford when he got married earlier this year.
The majority of the contestants were from Somerset but people from as far afield as Rotherham, Wigan, London and Aberdare in Wales also took part.
Organiser Daniel Medley, from Wookey Hole caves, said the event attracted "competitive eaters" and had been "quite messy" this year.
"Some people literally just open their gullet and throw the mince pie in - some people squash the pie in their hand first - some just take lots of little bites," he said.