Energy firm Ecotricity scraps Somerset solar farm plans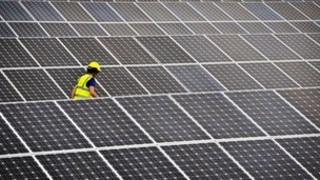 Energy firm Ecotricity has cancelled its plans to build a solar panel farm in Somerset, blaming cuts in government solar energy subsidies.
The firm said the planned 26-acre farm in Chewton Mendip would have generated enough power for 1,500 homes.
The government said it wanted to prevent the industry falling victim to boom and bust through the low start-up costs and high rates of return.
The "feed-in tariff" rate has dropped by 70% for large-scale projects.
The feed-in tariff is a system in which the government pays the energy supplier for the electricity it generates.
Jobs under threat
Feed-in tariffs for large-scale projects, which generate more than one megawatt of electricity, have dropped from 29p to less than nine pence per kilowatt hour.
Stuart Brennan, of Ecotricity, said: "The government has put a lot of effort into building up this industry and has suddenly dragged the rug out from underneath the industry just when it was getting going.
"That solar farm at Shooters Bottom would have generated enough electricity for 1,500 homes... 25,000 jobs have been created in the last 18 months in the solar industry and now they're under threat."
Smaller scale projects have also been affected by the changes - their feed-in tariff rate is set to drop from 43p to 21p per kilowatt hour from April next year.
Climate Change and Energy Minister Greg Barker said: "The plummeting costs of solar mean we've got no option but to act so that we stay within budget and not threaten the whole viability of the feed-in tariffs scheme.
"Although I fully realise that adjusting to the new lower tariffs will be a big challenge for many firms, it won't come as a surprise to many in the solar industry who've themselves acknowledged the big fall in costs and the big increase in their rate of return over the past year."
The story was featured on Inside Out West on Monday 21 November and can be seen via the BBC iPlayer for up to seven days after the broadcast.