Somerset taxi drivers fined for smoking in their cabs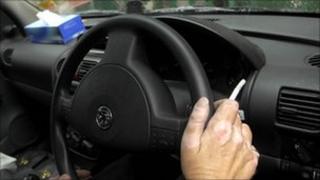 Councils in Somerset have handed out 22 fines to bus, coach and taxi drivers caught smoking in their vehicles since a ban was introduced in 2007.
The £50 fines are imposed because private hire and Hackney carriage vehicles are regarded as public spaces.
Taunton Deane recently clamped down on drivers smoking illegally.
Taunton Deane councillor Ken Hayward said: "We felt standards were slipping and decided to take a more formal approach with on-the-spot fines."
A total of 13 fines have been handed out in Taunton Deane since the law was brought in. Six followed the clampdown.
Mendip District Council has issued 36 fines for smoking since 2007 - three of which were handed to taxi drivers.
The rest were handed out to people using commercial vehicles.
South Somerset District Council has issued nine fines for drivers of public vehicles such as taxis, buses and coaches.
In Bath and North East Somerset and West Somerset council areas, no smoking fines have been issued.
Sedgemoor District Council has had a ban on drivers smoking in taxis since 2002.
It issues penalty points on the taxi drivers' permits.
However drivers have been able to avoid getting points if their cab is professionally valeted and a receipt is shown to the council as proof.