Occupy Bath protest 'to continue'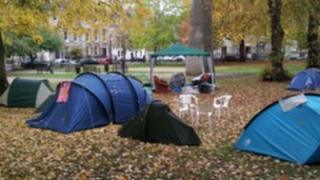 Protesters taking part in the Occupy Bath protest have said it is likely to continue for at least a few more days.
Campaigners opposed to financial inequality and politicians' handling of the economy have been camped in Queen Square since 30 October.
Spokesman Dave Stephens said he would be surprised if they packed up within a week.
A council official met the group at the weekend to discuss a possible end to the demonstration.
Mr Stephens said 10 to 15 protesters remained at the site on Monday morning.
He said: "We will try and keep it going until we hear otherwise. It'll be at least a few more days."
Conservative councillor Anthony Clarke, from Bath and North East Somerset Council, said he wanted the campaigners to leave.
He said: "People have the right to let their views be known, but that is different to putting up dwellings and moving into public places and removing the amenity that should be there for the general public."
Meanwhile, Bristol City Council has agreed to meet protesters taking part in the Occupy Bristol demonstration, in an attempt to bring it to an end.
Campaigners have been camped on College Green for more than a month.
On Friday the council issued a letter, formally asking for them to move off the land, saying it is private property owned by Bristol Cathedral.
It is understood another meeting between the council and the protesters will take place on Friday.