Bath's Victoria Bridge restoration estimated to cost £3m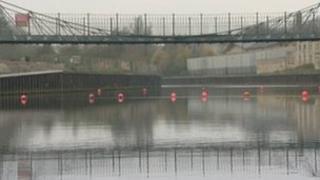 Restoring an unsafe footbridge in Bath will cost more than £3m, according to the council that wants to reopen it.
Victoria Bridge was shut a year ago due to structural weaknesses and further deterioration led to a decision last week to close the River Avon below.
Bath and North East Somerset Council, which owns the listed structure, wants to have it reopened by winter 2013.
Councillor Roger Symonds said cash for the restoration could come from the Lib Dem-led council reserves or loans.
The council said it was working on a three-phase solution to protecting the bridge, which included emergency works, temporary works and full restoration.
Phase one is currently under way with props and straps being used to strengthen the structure as it stands.
The next phase will begin in December with a temporary truss being constructed to support the bridge and enable it to be worked on.
Once these works have been carried out, British Waterways will decide whether or not it is safe to reopen the River Avon and allow boats to pass under the bridge once again.
'Very damaging'
Conservative councillor, Dave Laming, said closing the River Avon was the "river equivalent of shutting off the M4 motorway to traffic".
"Like all cities with a river at their heart, Bath's local economy benefits enormously from the River Avon and the boat traffic it brings," he said.
"If this were to be stopped for a long period this could prove very damaging to our local economy."
Darrell Pickup, who runs Saltford Marina nearby, said his business would lose up to £10,000 because of the closure.
He said the council's plan was reasonable but it had owned the bridge for at least 50 years and its track record must be judged by the bridge's condition today.