West Hewish 'malfunction junction' causes traffic problems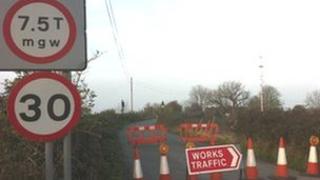 The closure of a railway bridge near Weston-super-Mare has resulted in a situation dubbed "malfunction junction" by locals.
Network Rail (NR) closed the 140-year-old Wick Road bridge, West Hewish, last week. It is due to re-open next April.
Drivers had been using the road, from Wick St Lawrence to the A370, as a rat-run for the M5, to avoid Weston.
Local council bosses however, have not criticised NR, which had been "very good indeed".
The bridge's closure has apparently led to long tailbacks and reported confusion.
Colin Hill, clerk at Puxton and Wick St Lawrence parish councils, said a survey had previously shown more than 710 cars using the road in two hours.
He said despite traffic problems on other roads since the closure, Puxton residents were happy about the reduction in traffic in their area.
"At the end of the day, people have to get out of Weston to get to work and that's our problem," he said.