Winscombe owl centre 'stretched to limit'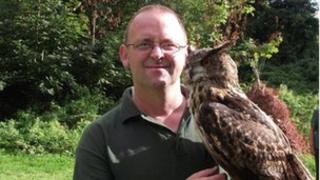 An owl rescue centre in Somerset will have to turn away injured or abandoned birds unless it receives a cash boost from a sponsor, its owner says.
Family-run Avon Owls in Winscombe has reached the maximum number of owls it can care for at its current premises.
Owner Darren Jenkins said the centre in his back garden was "just about keeping afloat".
"We're at maximum capacity with 14 owls, all aviaries are full and we can't take any more owls in," he added.
"I'd have to pass them on to the RSPCA who have enough birds on their plates with the recession on."
An RSPCA spokesperson said: "If Mr Jenkins is not able to take in further injured animals, then we suggest that he asks the member of the public to contact the RSPCA or other reputable wildlife rescue centres directly to see if they can take the animal in."
'Next level'
Mr Jenkins is appealing for a cash sponsor so he can build a larger sanctuary at new premises.
"I need to take it to the next level now. I have run out of space where I am. I can't progress any further without more money and an offer of land."
Mr Jenkins estimates he would need about £10,000 to build a new sanctuary complete with a visitor centre and rehabilitation centre at a new site on a long-term loan.
He added: "This in turn will then be opened to the public with the consent of North Somerset Council and, once funds are being generated, then we might be able to pay rent to the landowner."
Avon Owls is a non-profit-making organisation which predominantly cares for injured or abandoned owls which have previously been bred in captivity.
The existing centre is not open to the public, but Mr Jenkins shows the birds at schools, fetes, retirement homes and scout groups.