M5 crash: No weather warning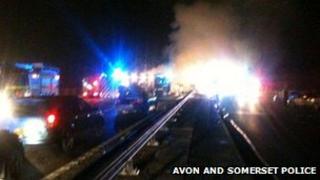 No weather warning signs were displayed on the M5 on the night of a fatal motorway pile-up, despite a fog forecast, the BBC can reveal.
Seven people were killed and 51 injured in the crash on 4 November.
The Met Office had told the Highways Agency of "isolated fog" in the area on the day of the crash, the Agency has confirmed.
Police are investigating whether smoke from a nearby fireworks display may have contributed to the pile up.
Some drivers had reported smoke or fog before the crash.
The Highways Agency confirmed that there were no warning signs.
It said a Met Office regional weather advisory issued to its regional control centre at Avonmouth had warned of isolated fog, but did not highlight fog as a "potential hazard" at the time of the collision.
A spokesperson said: "At the time of the incident on Friday November 4, our Regional Control Centre at Avonmouth had not received any warnings or reports of adverse weather conditions on any of our roads in the South West and no weather-related warnings were set on our electronic message signs."
The Highways Agency added that fog messages could also be set on electronic signs by the regional control centre if it was alerted by visibility sensors, but there were no sensors on that stretch of the M5.
It said: "In light of the ongoing police investigation it would not be appropriate to comment further."
The full story can be seen on Inside Out on BBC1 at 19:30 GMT.