Bridgwater flood wall crack resident moves back home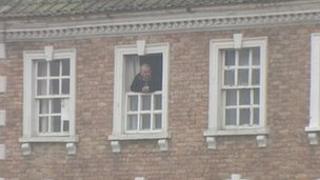 A Bridgwater resident who was moved out of his house after the partial collapse of a river wall has moved back.
Thirty people were told to leave their properties and some businesses had to close last week after a section of wall along West Quay dropped into the river.
Residents have been told the properties are not safe but Dave Swan, who has back problems, said his alternative housing, at the YMCA, was too small.
Mr Swan said he was in "a lot of pain" and did not want to stay at the YMCA.
Sedgemoor District Council said West Quay "remains a very hazardous and dangerous area" after the collapse during heavy rain earlier in November.
"Public safety is paramount. Whilst it may appear stable at present, circumstances could change at very short notice," the authority added.
Mr Swan said the council seemed to be "waiting forever" for the wall to completely topple.
"I wish they'd push it down and hurry up and see what's going to happen," he said.
The wall is said to be moving at 15mm a day, although it is still performing a role protecting the quay from river water.
Large cracks appeared after local drainage failed to deal with 20mm of rain on 4 November.
Residents were told that in the worst-case scenario, they would not be able to return home for six months.