Exmoor ponies 'could be given birth control'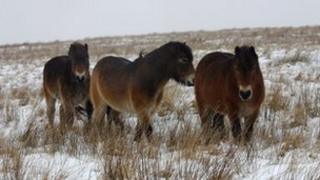 Farmers could be asked to give contraception to Exmoor ponies in a bid to control their numbers.
Experts say too many foals are being bred, resulting in some being sent to the slaughterhouse.
Last month, it was announced a Dartmoor pony herd in Devon was to get contraceptive injections to reduce the number of unwanted foals.
Val Sherwin, from the Moorland Mousie Trust, said she thought contraception was "a brilliant idea".
The charity, based at Ashwick on Exmoor National Park, works to protect the breed.
'Sales suffering'
Exmoor pony foals are sold every year, but sales have stalled due to the economic situation. The trust takes in ponies that nobody wants to buy.
Ms Sherwin said: "It's been a problem for a few years but the recession has really hit now. It's quite obvious that sales are really suffering.
"In the past we've been in a position where we've been able to take virtually all of the surplus young stock in the autumn.
"This year we've had to make decisions as to how many we can take and we've had to cut the numbers.
"And sadly, this means for the first time in several years, some ponies have had to go off for slaughter which is very sad for a charity that does the the work we have to do, but we have to be sensible and practical and we can only afford to keep so many here."
She said birth control methods that could be discussed included oral contraception and trialling vasectomies on stallions.
'Cost-effective'
Rex Milton owns two herds of Exmoor Ponies on Withypool.
He said: "In recent years, we have tended to over-produce the numbers of foals in a bid to try to rescue the best of the breed....we're getting a certain degree of wastage.
"We're looking at all angles and we want to do what's right for the ponies but it's got to be cost-effective.
"At the moment unless the price of this [contraception] comes down considerably, I can't see it being a viable option on the moor.
"There's no way that the market value of an Exmoor pony will actually sustain that type of expenditure."