Remembrance Sunday: Somerset villagers honour war dead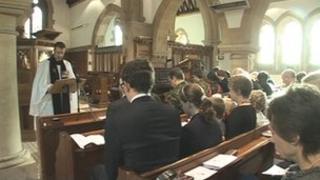 A Remembrance Day service has been held in the Somerset church where Harry Patch, the last British survivor of the World War I trenches, is buried.
Veterans, villagers and cadets marched to St Michael's church in Monkton Combe before marching on to the school.
Mr Patch, who died in July 2009 at the age of 111, was born a mile away in the village of Combe Down.
Elsewhere in Somerset, special services took place in Peasedown St John, Wellow and Shoscombe.
The choir at Wells Cathedral replaced Evensong with a devotional performance of Faure's Requiem, which was interspersed with readings of war poetry.
Revd Matthew Dietz, chaplain of Monkton Combe School, said troops from the two world wars were remembered as well as those involved in conflicts since.
"Remembering it is such a deeply significant thing for us to do collectively," he said.
"We recall that people who have gone before us have enabled us to live in the freedom that we have today."